Art, Concert, Screening, Roma
Introduzione
Introduzione
programma
L'ECCEZIONE
Biografie
Category
Art, Concert, Screening
In occasione della VideoArt Week di Videocittà, Istituto Svizzero presenta la closing night della settimana con lo screening del lavoro di Rä di Martino L'eccezione (2019) e due dj-set: MAI MAI MAI e DJ HUGOSAN.
Lo screening di Rä di Martino è in collaborazione con il Museo Novecento di Firenze e l'Associazione MUS.E
Si ringrazia la Galleria Valentina Bonomo.
Ideato da Francesco Rutelli, Presidente dell'ANICA (Associazione Nazionale Industrie Cinematografiche Audiovisive Multimediali) e diretto da Francesco Dobrovich, Videocittà è realizzato con il supporto di Regione Lazio e Lazio Creativo, in collaborazione con CDP e Roma Capitale Assessorato alla Crescita Culturale. Main partner di Videocittà sono Eni, Intesa Sanpaolo e TIM. Main Media & Content Partner di Videocittà è la Rai che partecipa all'evento con una serie di progetti specifici di RAI STORIA, RAI TECHE, RAI FICTION, RAI RAGAZZI, RAI CINEMA.
Videocittà è realizzato in partnership con il MAXXI, con il sostegno di ANICA e si avvale della media partnership di IGPDecaux.
Programma
H19:00 Proiezione di L'eccezione (2019), Rä di Martino
H21:00 DJ-set MAI MAI MAI
H22:15 DJ-set HUGOSAN
Rä di Martino
L'eccezione
2019
Performer: Alessandro Pezzali
Director of photography: Alessandro Chiodo
VFX: Lapo Tirelli
Make up: Alice Gentili
Camera Operator: Simone D'Arcangelo
Montaggio: Benedetta Marchiori
Color Grading: Federico Belati | D-Color
Executive Producer: Massimiliano Navarra
Executive Production: Cronache Marziane
Casting: Marcella Libonati
Production: Museo Novecento – MUS.E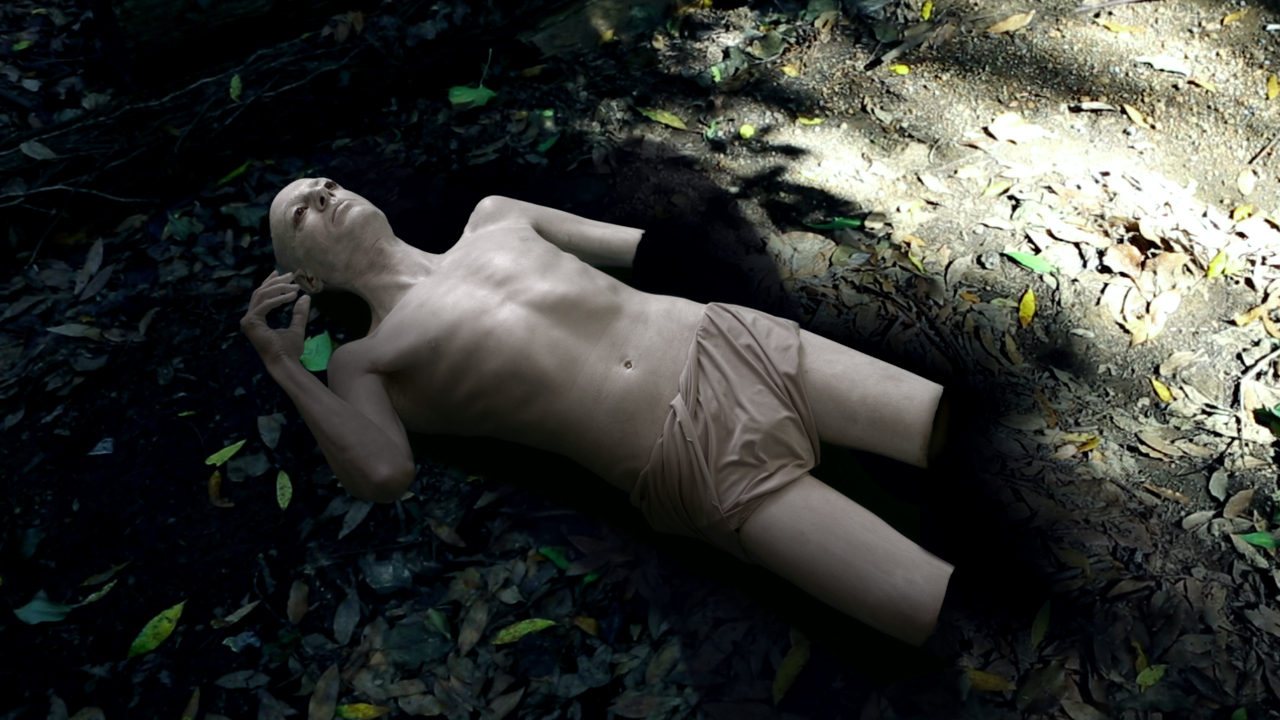 Una statua abbandonata in un bosco, senza gambe e senza un braccio, è bloccata e persa. Risvegliatasi, inizia a compiere piccoli movimenti, simili a una danza.
Nonostante prenda coscienza della sua condizione di statua mutila, forse immutata da secoli, vuole lasciarsi andare alla melodia che sente. La musica, nostalgica e romantica, è una rielaborazione del love theme di 
Flashdance
, che ci chiama in causa a nostra volta, lasciando emergere ricordi lontani.
Il nuovo video L'eccezione di Ra di Martino 
richiama alla mente il tema delle statue animate,
topos della storia dell'
arte occidentale, costellata di esempi di automi intelligenti e macchine parlanti: dalla leggenda di Dedalo, che sarebbe stato in grado di costruire nella pietra o nel bronzo figure capaci di muoversi e camminare al pari degli esseri umani, al celebre Scrivano di Pierre Jaquet-Droz, fino ad arrivare, ai giorni nostri, alla creazione di robot biotecnologici, già incontrati in un mitico film degli anni Ottanta come
Blade Runner
.
Rä di Martino (Roma, 1975) ha studiato al Chelsea College of Art e alla Slade School of Art di Londra, ha poi vissuto a New York, dal 2005 al 2010; vive e lavora ora a Roma. Ha esposto in istituzioni quali la Tate Modern (Londra), il MoMA PS1 (New York), Palazzo Grassi (Venezia), GAM e Fondazione Sandretto Re Rebaudengo (Torino), Macro e MAXXI (Roma), Museion (Bolzano), MCA (Chicago), Hangar Bicocca e PAC (Milano). Ha partecipato a festival del cinema internazionali quali Festival del film Locarno, VIPER Basel, Transmediale, Berlino, New York Underground Film Festival, Kasseler Dokfest, Torino Film Festival, e al Festival del Cinema di Venezia.
DJ HUGOSAN
Soprannominato "El Tremendizmo", Hugo Sanchez usa i giradischi e il mixer per creare paesaggi sonori impossibili, che hanno riferimento nella musica africana, nel funk e nella musica elettronica di ricerca.
E' nato a Roma nel 1974 ed è cresciuto giocando con il giradischi dei genitori e la loro collezione di dischi di pop francese anni '60. Già a 12 anni ha cominciato a sperimentare con strumenti rudimentali di riproduzione del suono. A 17 anni ha cominciato a fare il dj negli ambiti della produzione di cultura indipendente. Negli anni 2000 ha collaborato con il suono alla costruzione di feste di liberazione queer come Coq Madame, Phag Off e Subwoofer. Negli anni ha costruito il suo studio/laboratorio di produzione multimediale e ottenuto residenze come dj in vari club in Italia e all'estero. Attualmente collabora con Rodion nel progetto ALIEN ALIEN e con la label discografica ROCCODISCO. Assieme al belga DJ ATHOME condivide il progetto FRONT DE CADEAUX.
A Roma la sua base è PESCHERIA, uno studio in cui agisce un collettivo di performer locali e di tutto il mondo.
Il suo party/evento di riferimento è attualmente TROPICANTESIMO al Fanfulla di Roma.
MAI MAI MAI
Fin dalla sua infanzia ha seguito i suoi genitori in Europa e nel Vicino Oriente, assimilando le diverse culture, atmosfere e sonorità dei luoghi. La sua musica è la trasposizione di queste esperienze in musica e suoni: un mix musica drone e ambient con ritmiche vaporose, registrazioni sul campo e soundscapes.